Season 3, Episode 2: Magic Hour
---
previous | index | next
---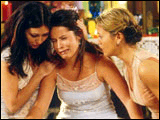 Aired: Thursday, October 12, 2000

Rating: 3.7/5

Quotes

Full synopsis

Credits

Written by Chris Levinson & Zack Estrin
Directed by John Behring

Starring


Shannen Doherty
Holly Marie Combs
Alyssa Milano
Brian Krause
Julian McMahon


Guest starring


Michael Dietz as Christopher
Elisabeth Harnois as Brooke
Erik Passoja as the sorcerer
Jennifer Rhodes as Penny "Grams" Halliwell
Amir Aboulela as evil council member #1
Shaun Toub as evil council member #2
Rick Overton as evil council member #3


Co-starring


Billy Ray Gallion as assistant #1
Keith Allan as assistant #2


Featuring


Madoka Raine as bookstore employee


Featured musical artists


Beth Hart

---
Yay! The cat makes an appearance.

I swear, they change the opening credits of this show more often than I change hairstyles! Dorian Gregory is gone again.

Wow, Michael Deitz, the first Joe Scanlon from "Port Charles."

I never knew owls were so cute.

And from this episode we learn that Leo can only heal humans, not animals. Oh, and Grams was married four times because she never found true love. The Halliwell women don't have good track records with true love.

I guess Phoebe isn't making a great effort to use her new power since we didn't see her work on it once this episode.


---
previous | index | next
---