Season 3, Episode 3: Once Upon a Time
---
previous | index | next
---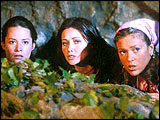 Aired: Thursday, October 19, 2000

Rating: 3.5/5

Quotes

Credits

Written by Krista Vernoff
Directed by Joel J. Feigenbaum

Guest starring


Rachel David as Kate
Boti Ann Bliss as Abbey


Co-starring


Nancy Everhard as Jana
Tony Carreiro as Bill
Michael Bailey Smith as Belthazor


Featuring


Jake Dinwiddie as fairy
Scout Taylor-Compton as Thistle

---
Rachel David used to be the younger daughter on that short-lived WB show "Movie Stars."

Why was Kate such a smart kid and Prue and Phoebe were such silly kids?

I have never seen such an evil looking Garfield clock in my entire life.

So Kate's parents didn't think it was strange that the three sisters wanted to come over at midnight to visit Kate? And the screaming and fighting didn't wake them up?

Cool, trolls make blue flame when they burn.


---
previous | index | next
---