News
---
| | |
| --- | --- |
| Andrew Macpherson/WB | |
10.27.06 - Holly Marie Combs gave birth to her second child on October 26th, 2006, in Los Angeles. The baby is a boy and weighed in at 8.5 lbs. The little boy has been named Riley Edward Donoho. His older brother Finley Arthur is two years old. "Everybody's great," says Donoho, 41. "Holly is tired, but she's fine. Riley came right out and as soon as he heard Holly's voice, he smiled. He has hair like Elvis — a full head of black hair. The doctor said he came out looking like a 2-year-old."

10.27.06 - Ivan Sergei, along with Frances Fisher, has joined the cast of the USA Network pilot To Love and Die in L.A. Sergei will play the love interest of Shiri Appleby's daughter-of-an-assassin, while Fisher will play Appleby's mother.

10.26.06 - Shannen Doherty will be on Live with Regis and Kelly on Friday, October 27th.

10.25.06 - TVGuide.com: Per the Hollywood Reporter, Kaley Cuoco and Caroline Rhea have been cast in Fat Like Me, a Lifetime movie based on the true story of a teen who, as part of a news exposé on obesity, goes undercover at a high school wearing a fat suit. Rhea plays Cuoco's mom.

9.21.06 - Alyssa Milano is attached to star in Me and Everyone Else, a half-hour ABC comedy about a 30-year-old, take-charge woman fancied by the producers as "Rhoda with a sex life."

8.31.06 - Shannen Doherty will be on Last Call with Carson Daly the night of Friday, September 8th.

8.25.06 - People Online: Charming Reunion It's one relationship that didn't sour for The Breaking Up star: Shannen Doherty makes it a day at the park Thursday with her former Charmed costar Holly Marie Combs and Combs's 2-year-old son Finley in Malibu.

7.17.06 - People Online: Just 'Charmed' Nick Lachey – who did a six-episode stint on Charmed – meets up with former witchy woman Alyssa Milano over lunch at Hollywood's Sky Bar on Thursday.

7.13.06 - Zap2It.com: Shannen: I've #@*!'n matured, OK? Shannen Doherty chose this day to unveil a shiny new Shannen to the world -- a peaceful Shannen, a mature Shannen, a Shannen who is ready to gather up all of her wealth, power and fame and lay it down at the feet of one good man. More...

6.27.06 - After suffering a stroke, Aaron Spelling died on Sunday, June 18th.

6.16.06 - Ivan Sergei has landed a lead role in the FOX drama pilot Drive.

5.19.06 - From TVGuide.com: Rose McGowan, Freddy Rodriguez and Josh Brolin will join Marley Shelton and the Black Eyed Peas' Fergie in "Planet Terror," Robert Rodriguez's zombie-movie half of Grind House, the slasher film he's doing with Quentin Tarantino.

4.21.06 - From TVGuide.com: Shannen Doherty is fronting an Oxygen reality series on which viewers will hire out the Beverly Hills, 90210 diva to give the heave-ho to significant others, bad friends and mean bosses. Doherty's show is slated to launch this summer.

4.20.06 - It's official! Holly Marie Combs is pregnant and expecting her second child later this year.

4.12.06 - From TVGuide.com: Says the New York Post, Rose McGowan is being Charmed these days by Sin City director Robert Rodriguez ("They have a professional relationship," counters a publicist).

4.5.06 - Michael Ausiello of TVGuide.com reports that Brian Krause has two projects lined up for after Charmed has ended. He will be in the Lifetime pic "Ties that Bind" and the indie flick "The Headhunter." In the latter, which co-stars Tom Sizemore, Krause will play Elvis Presley's longtime friend and bodyguard.

3.27.06 - Kaley Cuoco has been cast as Marisa Coughlan's sister in ABC's untitled sisters pilot.

3.15.06 - Brad Kern told Michael Ausiello of TV Guide that this is no chance that Shannen Doherty will be back for the Charmed finale. Also, it is very unlikely that there will be any kind of spin-off of Charmed.

3.10.06 - It's official. This is the last season for Charmed.

3.8.06 - From E!Online: "I scream a lot...Oh, and I heckle." --Charmed vixen, Dodgers fan and baseball-hunk-afficionado Alyssa Milano's explanation for how she handles bottom-of-the-ninth stress at games

3.6.06 - Kerr Smith (Agent Kyle Brody) has been cast in the new FOX show American Crime.

2.28.06 - Variety reports that Jenny McCarthy and Ivan Sergei (Henry) will star in the ABC Family original movie "Mary Christmas."

2.15.06 - Michael Ausiello at TVGuide.com reports that Brad Kern is doing everything in his power to get Brian Krause back before the series, er, season ends in May.

2.14.06 - Shannen Doherty was involved in a car crash on Monday when her Range Rover collided with a Mustang on the Pacific Coast Highway in Malibu. While the other driver was taken to the hospital, Doherty — who was cited for causing the collision — complained of pain at the crash scene but refused immediate treatment.

2.13.06 - Filmstew.com: Another Charmed Cliffhanger Usually, a show runner has the last word on their program's fate. But for the second year in a row, Charmed producer Brad Kern has no idea if this season is his last. More...


| | |
| --- | --- |
| | 876/Most Wanted/ZUMApress.com |
2.9.06 - E!Online Fashion Police: Witchy Woman Shannen Doherty is perfectly coordinated--the flip-flops match the cami, the embroidered leather belt plays off her bag strap and they all pair nicely with the white peasant skirt--so why are we less than charmed? Maybe it's the evil slant of her sunglasses or the curtain of inky black hair, but something about this embattled actress simply scares us. -->

2.5.06 - Eric Dane (Jason Dean) has been cast in Grey's Anatomy as Dr. Mark Sloan, Dr. McDreamy's ex-best-friend who slept with Addison Shepard.

1.24.06 - Warner Brothers and CBS Corp. announced plans Tuesday for the creation of a new broadcast television network, called CW, that would replace the WB and UPN networks in the fall of this year. The new broadcast network will draw on programming from both WB and UPN, and will be a joint venture between Warner Bros. and CBS (Research), with each company owning 50 percent, officials of both companies said. More from CNN.com

1.20.06 - While it is expected soon, there is no official word yet on whether or not there will be another season of Charmed.



Holly Marie Combs
Alyssa Milano
Rose McGowan
and Kaley Cuoco
by James White/WB
1.20.06 - TV Guide Online - Charmed Hits a (Final?) Milestone

by Matt Webb Mitovich

With its Jan. 22 broadcast, WB's Charmed (Sundays at 8 pm/ET) — which premiered Oct. 7, 1998 — becomes the longest-running television series boasting all female leads, having bewitched viewers for more years than such estrogen-heavy fare as Laverne & Shirley, Designing Women and Sex and the City. To mark the milestone, TVGuide.com sat down with executive producer Brad Kern to assess the show's assets, assay the avidness of its fans and conjure up a peek at its future — no matter how (gulp!) finite it may be. TVGuide.com: Regarding the milestone you've achieved, how does one even stumble upon such a factoid?
Brad Kern: I don't know. I kept pressing the publicity people, saying, "Are we sure we're right about this?" because wasn't Murder, She Wrote on for, like, 12 years? They said, "No, no, this is for female leads, plural." I guess the Academy of Motion Picture Arts and Sciences contacted Paramount to alert us to the fact that we had surpassed the longest-running hour featuring female leads, and the only milestone left [to surpass] was the longest-running half-hour [Laverne & Shirley].

TVGuide.com: And this Sunday, you actually take the title.
Kern: I wonder if I get any door prizes!

TVGuide.com: Something I always find interesting is that every week, Charmed lands in the Top 20 searches on TVGuide.com, but, of course, the show isn't in the Top 20 of the Nielsen ratings. Why do you think that is? What's your view on the fan base?
Kern: The WB has moved us three or four times, and yet each time they do that, the fans have followed. I just think these kinds of shows lend themselves to loyal fan bases. When I was on [The Adventures of] Lois and Clark [as a coexecutive producer-writer], the Internet was just becoming big, and we had a huge fan base on that show. I know The X-Files does and did. And Buffy, and now Lost. These shows all seem to attract computer-savvy fans. Once they like a show, they are loyal as loyal can be, and that's probably why we get so many hits on the Internet.

TVGuide.com: Plus with this type of show, fans can get wrapped up in the mythology, the addition and subtraction of powers, the assorted demons....
Kern: Sure — almost to a fault. Unfortunately, all shows have to reach beyond the loyal fan base, and those [new viewers] would get lost in the minutiae if you spent too much time trying to connect all the dots. Part of the challenge is to always reward the loyal fan base with consistent mythology, but not be so locked into it where you've cornered yourself and can't do stories that the rest of the audience can follow.

TVGuide.com: One fan criticism is that Charmed, as of late, sometimes veers from sisters-focused storytelling and is more about other relationships.
Kern: There are two reasons for that. One, it's the eighth year, so you have to branch the series out; it has to grow from what you've done. The second reason, which ties into the first, is that there are only so many "sister stories" you can do. The stars have been doing the series for so long that the only way I can make it fresh for them is to give them new material that has them, more often than not, working off other actors and characters, while I also try to give them some time off. Working eight straight days, like they did for so many years, [makes them] burned out, and understandably so. I'm fully aware of the loyal fans' concerns of pulling away from the sisters, but there's no way to do it anymore. Eight years later, you can't have the sisters still sitting around the dinner table complaining about life every week because after a while, they look around and go, "Didn't we have this conversation before?"

TVGuide.com: You've also taken some heat for writing out Brian Krause's Leo. Did you anticipate that, or did you think you could slip him out quietly?
Kern: When I was forced into writing Leo out of the show, for budgetary reasons, the first thing I told anybody who would listen — the powers that be — was that it is a huge mistake and the fans would be in an uproar. But the budget ax swung very deeply in bringing us back [for this season], and it was non-negotiable. I had nothing to do with it. I'm the first one to say that, because I was the one left having to figure out how to take him out! I was the one who fought for him to be on the show for even 10 episodes this year. I had to find money from other places to keep him around.

TVGuide.com: You had to fire a couple of leprechauns, didn't you?
Kern: I had to do a lot, personally and professionally, to figure out where some of that money would come from. Knowing the fans would be upset and knowing that this is the series finale we're building up to, the only thing I felt I could do was not to kill off his character, but basically put him in limbo and play "How to bring Leo and Piper back together" for the rest of the season leading up to the finale, where hopefully we'll be able to creatively and proactively bring him back.

TVGuide.com: So is this officially Charmed's final season?
Kern: Nobody at WB will commit one way or the other. I've heard nothing about it. As far as I'm concerned, this is it. Last year the show was held in limbo, but fortunately "the governor called" and we got another year. I wasn't able to craft a season or series finale [then], so I did sort of a hybrid, which to me was disappointing creatively. This year, with no contract for the girls [Alyssa Milano, Holly Marie Combs, Rose McGowan and Kaley Cuoco] and no contract for me, the WB seems to be looking forward to looking for "the next generation" of shows. We're still an expensive show, and all those factors tell me that, here in the middle of January, I'm just pushing toward the series finale. It's too late for them to say, "We want to find a way to make a ninth season" — but it doesn't mean there can't be a spin-off.

TVGuide.com: Is the sometime-rumored Kaley Cuoco/Billie spin-off an option?
Kern: Any spin-off is still an option, because no one has ruled out any options at the WB. I have heard nothing, the silence has been deafening. I've just been going about doing my job and trying to build up to a series finale, not something that's neither here nor there like last year.

TVGuide.com: With that said, what's coming up during the back half of the season? Any returns for Cole or Prue?
Kern: [Laughs] In my ideal world... The huge problem I have to deal with this year is the budget cutback. I'm trying to save money each episode so I can afford to bring back as many of the regular cast members as possible. Who that will be, I don't know, but my plan is to have the equivalent of a "family reunion" including as many people as I can afford. I'm not going to be able to get Julian McMahon back [as Cole]; I twisted his arm, and begged and bribed him to come back for the 150th episode last year, which he so lovingly offered to do. But that doesn't mean I don't have flashbacks! [Laughs] I can pull back the celluloid. The goal for me is to take the series out the way it began. It's interesting that one of the criticisms, rightfully so, is about the lack of sisterhood, but I'm building to it being all about sisters. Even when we talk about Kaley Cuoco's Billie, we're going to be bringing her sister, Christy, into the show [played by recent Supernatural guest star Marnette Patterson], working around the final ultimate battle. That seems kind of poetic because that's what the series has fundamentally always been about, and that's how it will end.

TVGuide.com: What's the bullet on Christy?
Kern: As we know, she was kidnapped by a demon when Billie was 5 and the sister was 7. She will be found after spending the last 15 years with demons.

TVGuide.com: Hmm, I take it she's not too happy.
Kern: She's a little traumatized, and certainly mysterious. Who is she? Is she the sweet child who had the potential of powers before she was taken, or has she been Stockholm Syndrome'd and now believes in the demonic way?

TVGuide.com: Ah, the age-old nature vs. nurture debate.
Kern: You got it! [It's a question] we've played with and toyed with and worked every way possible over the last eight years, and [for the finale] we would like to return to it.

1.12.06 - Kristin at E!Online says that this is most likely the last season for Charmed - it would take a ratings miracle to save the show at this point.

12.14.05 - Michael Ausiello from TV Guide says it looks like this will be the last season for Charmed, and he predicts that there will be an official announcement within the next two weeks.

12.9.05 - Still with two shows on the air (7th Heaven and Charmed), the staff at Spelling TV was cut significantly yesterday. Still running the show at Spelling TV are Aaron Spelling, E. Duke Vincent and Jonathan Levin. Approx 25 were let go, leaving about 10. Going forward, Spelling TV is now working as a unit of Paramount Network TV, and the positions eliminated are those already filled by the studio, including legal, finance and business departments - the so-called backroom departments.

12.8.05 - Someone has started a campaign for a spin-off starring Wes Ramsey and Drew Fuller. thecharmedsons.com

12.5.05 - Kerr Smith (7th season's Agent Kyle Brody) has been added to the cast of NBC's freshman series, E-Ring. He has already guest-starred in three episodes, and he will make his first appearance as a regular cast member after E-Ring returns from its holiday rerun cycle. Smith will continue his role as Bobby Wilkerson, a member of the Pentagon's Special Ops force and a friend of J.T. Tisnewski (series star Benjamin Bratt).



Rose McGowan by
Robert C. Mora/WireImage.com
12.1.05 - TV Guide Caught in the Act - Gone good: Has Charmed star Rose McGowan left her notorious red-carpet days far behind? She looked rather like an innocent prom queen at Wednesday night's Family Television Awards. -->



Ivan Sergei by
Mitchell Haddad/WB
11.25.05 - TV Guide: Will Charmed's Cop Learn the Truth?
by Matt Webb Mitovich
Earlier this month, Ivan Sergei — whom you probably remember as the Jill in Jack & Jill — returned to WB via Charmed (Sundays at 8 pm/ET), playing Henry, a lawman oblivious to the ladies' witchy ways. Here's what the actor had to share with TVGuide.com about his charmed existence, the one role he let slip away and his flirtation with danger.
TVGuide.com: For the uninitiated, how would you describe your Charmed role?
Ivan Sergei: I'm playing Henry, a parole officer. In my first episode, one of my parolees is destined for future greatness, but he's not really showing it to me, so I need Rose McGowan's Paige character to come along and show me the way. In the process, we start a budding little romance.
TVGuide.com: Are you being groomed to fill the void left when Brian Krause exits as Leo?
Sergei: Well, as of now, Henry is not aware of any witchcraft or anything like that, which has been kind of fun.
TVGuide.com: You're Darren Stevens with a badge!
Sergei: That's true.
TVGuide.com: How long does Charmed have you for?
Sergei: The rest of the season.
TVGuide.com: How is the "colorful" Rose McGowan as a leading lady?
Sergei: She's absolutely great. I'm not really one who reads the magazines or anything, so I didn't know anything about her. When I came on, people said, "Rose is a strong person." I kind of like that, actually, so it's been all gravy for me.
TVGuide.com: When I interviewed Justin Kirk about Weeds, we were talking about how all of you Jack & Jillers seem to be doing well for yourselves.
Sergei: I think so. Not as well as Amanda [Peet], as of yet, but yeah, everybody's working. Jaime [Pressly] is doing well, as [My Name Is] Earl goes strong....
TVGuide.com: How was Jack & Jill as a work experience?
Sergei: It was a little up-and-down — our show runner left after one year — but it was a great experience. For me, just to be a title character on a show that's on the air for two years was wonderful. I previously had done John Woo's Once a Thief, which was a Canadian show, so this was a great opportunity. I actually got offered the part and got to sit in on most of the auditions and have a bit of say, in particular with Justin's character [Barto] coming in. I think we had replaced Amelia Heinle (The Young and the Restless) as the original Jack, so I had a little say in bringing Amanda in.
TVGuide.com: Amelia and Amanda are, like, "separated at birth," looks-wise.
Sergei: Yeah, but they couldn't be more different in personality, and I think that was a different direction the show wanted to go with.
TVGuide.com: How was your gig as a Crossing Jordan doc?
Sergei: You know, I'm very happy on Charmed, but I really wish I had stayed on Crossing Jordan. I took a chance to go do Hawaii, where I was the No. 2 guy on that show and it was a Hawaii-based cop show. I actually asked the people at Crossing Jordan, where I was No. 9 on the call sheet, to release me from my contract.
TVGuide.com: The math seemed simple enough.
Sergei: The math looked simple and the location was simple [Laughs] but Crossing Jordan has some great producers and a great show runner. It's the same feeling I have on Charmed — a well-run, friendly set.
TVGuide.com: On Jordan, did you overlap with Jennifer Finnigan (now star of Close to Home)?
Sergei: Yeah, absolutely. That was the whole time Jill [Hennessy] was pregnant, so they were bringing in new people to do new things with the show. I think that helped it keep going at a time when their lead character wasn't around for half the season.
TVGuide.com: In a way, Finnigan arrived at the same crossroads as you, leaving Jordan to headline the sitcom Committed.
Sergei: Yeah, but she was only recurring, whereas I had a six-year contract. She knew she was going to be moving onto another show, having come off [three Daytime] Emmys [wins] and doing so well in daytime.... She's really talented and obviously [Close to Home producer] Jerry Bruckheimer is the best in the business. He started my career, so I have nothing but fondness for him. My first film was Dangerous Minds, which you wouldn't expect to go make $100 million necessarily, but put it in the hands of someone like him and he turned it into gold.
TVGuide.com: You costarred with Tori Spelling in the TV-movie Mother, May I Sleep with Danger....
Sergei: Which airs all... the... time. [Laughs]
TVGuide.com: I take it you were "danger"?
Sergei: I was "danger," yes. Tough role to play. If I had a chance to do it again, I'd probably play it differently; I feel like I overacted a bit. But those are the chances you take when you take a psychotic role. I mean, what do you really draw from? [Laughs]
TVGuide.com: Leave us with a tease of what's coming up on Charmed.
Sergei: They don't really tell me too much. I know that I am going to find out that Paige is a witch. I think it's going to be a fun kind of episode where I'm having a bad week, so she tells the fairies to stop stealing my keys and tells the leprechauns to help me out a bit, so I, like, win the lottery and stuff like that. I think they're going to have some fun with it, and I'm looking forward to it. I'm having a great time.
11.4.05 - TV Guide interviewed Jennifer Love Hewitt about her new CBS show, Ghost Whisperer, and included this question:
TVGuide.com: You were invited to succeed Shannen Doherty on Charmed. Why didn't you?
Hewitt: It just wasn't the right thing. They were lovely people and I was really honored to be asked and I actually really like the show, but it just wasn't the right time.
10.25.05 - Ted Casablanca at E!Online reports that Shannen Doherty was spotted "gettin' all lap happy with USC QB Matt Leinart. Victoria's Secret Mood Candle launch party. At, duh, Mood. Yep, Shan doll--who is incapable of going out without causing some sort of a scene, bless her nasty-girl heart--was all over this hunk, sittin' on his lap, cooin' in his ear."
10.21.05 - Zap2It.com: 'Charmed' Star's Handcuffing Is a 'Nonissue' He was not charmed, I'm sure. An irritated security guard handcuffed "Charmed" star Rose McGowan at a Hollywood nightclub Tuesday (Oct. 18) for what turned out to be a misunderstanding, according to published reports. More...

Brian Krause
by Andrew Eccles/WB
10.21.05 - TV Guide: Charmed's Leo Safe from Demons
by Matt Webb Mitovich
Sure, Alyssa Milano and Holly Marie Combs have been around since Day 1, but it says a whole lot more that Brian Krause has lasted a full seven years on WB's Charmed (Sundays at 8 pm/ET), which frankly isn't known for providing job security for male actors. Indeed, Krause knows that his is a charmed existence, in more ways than one.
TVGuide.com: Dude, you work with Alyssa Milano, Holly Marie Combs, Rose McGowan and now Kaley Cuoco. Not exactly the hardest job in Hollywood, is it?
Brian Krause: Yeah, I think there have been more difficult jobs, that's for sure.
TVGuide.com: What's ahead this season? Could newbie witch Billie, whom Leo is spending a lot of time tutoring, cause problems for him and Piper?
Krause: I don't think she'll cause problems for us specifically, but — it's funny to say it like this — any time you get a new witch with new powers, there will be repercussions in her just learning the craft while we try to teach her the way. She definitely has some pitfalls, but obviously she'll come through with success and flying colors — and have demons in her future. [Laughs]
TVGuide.com: So there's no threat of sparks between Billie and her teach?
Krause: Piper and I run into the typical marriage issues. Now that I'm mortal, I'm trying to get her to spend more time with me. That's the big issue between them — separating the sisters from the magic, weaning them off so that they can lead normal lives.
TVGuide.com: I suppose if Leo were to stray, who knows what kind of hell Piper could unleash on him?
Krause: Yeah, exactly! [Laughs]
TVGuide.com: Ever since last season's finale, Leo and the girls have been living with "new faces," although viewers still see the same actors. Are you happy with your "alias" face?
Krause: Uh, yeah, I have no problems with it. It's not the same guy [as in finale]. I think the girls changed and the guy changed.
TVGuide.com: How much are the "alias" actors getting paid to spend eight seconds a week looking into a mirror?
Krause: I have no idea. I have no idea. [Laughs]
TVGuide.com: Has this gig proven better than you ever imagined back in 1998?
Krause: Absolutely. I started as a three-episode, possibly recurring character, and in that first season I wound up doing seven [episodes], and in the next [season] did 15 and they made me a regular. It's beyond what I thought it was going to be, and has grown and grown into me being an integral part of the show. It's a bit of a dream come true as far as a job goes.
TVGuide.com: Let's talk about two of your past projects. Which was a better trip: the Return to the Blue Lagoon or the Return to Cabin by the Lake?
Krause: Well, I'll tell you, you can't beat [Blue Lagoon's] Fiji — it was unbelievable down there. I spent three months learning how to live on an island and fish and climb coconut trees....
TVGuide.com: With Milla Jovovich, no less...
Krause: With Milla and a wonderful cast and crew. [Cabin's] Vancouver [shoot] wasn't too shabby, either. I made a lot of friends up there. Judd Nelson is a veteran and a class character, a great guy to work with.
TVGuide.com: He seems due for one of those "retro" comebacks.
Krause: He's a great guy and a good actor. I think we'll be seeing him forever.
TVGuide.com: Your bio says you enjoy "jam sessions on your harmonica." Quick, make that sound sexy for the ladies out there.
Krause: Uh, well, basically we play evil and sexy music late Friday nights in some dark dingy rehearsal studio on the West Side. Our mantra is "dark, evil and sexy." [Laughs]
TVGuide.com: Just be careful not to smash your hand while renovating your house. How is that going, anyway?
Krause: Doing it with my friends and basically contracting it myself, I've been working on it for two-and-a-half years. It takes as long as it takes; I do it on my days off. I've been building a walk-in closet for six months now. I'm over it!
TVGuide.com: Too bad there are no witches to snap their fingers and finish it up for you.
Krause: You know? I think it'd be "personal gain," though. It'd be a problem. [Laughs]
TVGuide.com: What else do you have filling your time?
Krause: I wrote, produced and directed my first short film, The Mission, and we're getting that out to all the circuits.
TVGuide.com: You play [reading press release] an "alcohol-drinking, cigarette-smoking, gun-carrying man in search of missing links to his past"?
Krause: Yeah, that's a classic little line there, huh?
TVGuide.com: All that's missing is "bimbo-bedding."
Krause: Yeah. No s---! He's basically a private investigator/bounty hunter who winds up on a personal bounty of his own, in which he trails this person who has a connection that will change his life.
TVGuide.com: How does General Hospital vet Jacklyn Zeman figure into it?
Krause: She plays my mark, the one that I'm after, and the reveal at the end is something very personal to [my character]. He had to overcome his demons to follow her and actually make his approach to her.
TVGuide.com: Hey, you said "demons." We don't like that word!
Krause: Yeah, but these are inner demons. [Laughs]
10.20.05 - Rose McGowan was handcuffed and booted from a T-mobile bash Tuesday night in Hollywood after getting into a scuffle with a security guard. McGowan's rep claims that the guard was "standing uncomfortably close to her" on the dance floor, causing his client to flip out.
10.12.05 - Zap2It.com: Doherty Moves on from 'Love' She battles Armageddon in an upcoming miniseries, but Shannen Doherty has already weathered one storm this television season. After the media frenzies over her exits from "Beverly Hills, 90210" and "Charmed," the actress was let go from UPN's new Thursday sitcom "Love, Inc." after making the pilot episode. More...
8.20.05 - Zap2It.com: 'Charmed' Magically Stays Alive - Last April on the set of The WB Network's Sunday-night supernatural drama "Charmed," tempers were a bit frayed. The seventh-season finale was in production, and there was no word yet on whether the show had been renewed. Star Holly Marie Combs, who plays Piper, the eldest of three demon-vanquishing good-witch sisters, was getting a bit cranky. More...
8.17.05 - Michael Ausiello at TV Guide reports that last Monday, Brad Kern acknowledged that "there's every likelihood" that this will be the show's final season. "The girls' contracts are up this season, and I wouldn't imagine that they would want to, or should be expected to, come back after devoting pretty much their entire 20s to Charmed. But you can never say never." Kern, who's keeping open the possibility of a spin-off built around Kaley Cuoco's new witch, said this season viewers will see a shift in focus "more toward the girls' personal lives. It's going to be fun to watch their Sex and the City-like antics as they try to do something they've never done before, which is try to lead normal lives."
8.17.05 - Due to budget cuts, Dorian Gregory will not be in the 8th season of Charmed, and Brian Krause's Leo will only be a recurring character.
7.29.05 - While the past seven seasons of Charmed have aired on a Canadian television network, none of the Canadian networks are currently planning on airing the 8th season, and Canadians are sad. If you are Canadian and would like to see the 8th season, or if you're not Canadian and want to help out sad Canadians, check out this petition.
7.26.05 - Sex and the City stud Jason Lewis is joining Charmed this season as a "new romantic interest for love interest for Alyssa Milano." He replaces Mark McGrath, whose demanding Extra responsibilities precluded his addition to the cast.
7.21.05 - Zap2It.com: UPN's 'Love, Inc.' Gets Busy ... Phillips - At 5:20 on Thursday (July 21) afternoon, Busy Phillips received an important phone call. "I was getting a manicure and a pedicure and I said, 'Guys, I have to cut this short,'" Phillips laughs. It's less than three hours later and Phillips is chatting with reporters at a Television Critics Association press tour network party as the newest star of UPN's fall comedy "Love, Inc." She's replacing Shannen Doherty, who was recast almost immediately after the show was picked up this spring. More....

Alyssa Milano
by Bob Levey/WireImage.com
7.12.05 - TV Guide Online Caught in the Act: This charming fan: Alyssa Milano was spotted at the Dodgers-Astros game in Houston Sunday. Though her boyfriend is Dodgers pitcher Brad Penny, her TV magic couldn't help the L.A. team win.

Rose McGowan
by John Sciulli/WireImage.com
7.8.05 - TV Guide Online Caught in the Act: We're Charmed: No doubt, Rose McGowan is still a wild child inside, but now that that the sometime exhibitionist has added more fabric to her red-carpet dresses, we can pay attention to her angelic face.

6.29.05 - Kaley Cuoco, who was most recently seen on the ABC sitcom 8 Simple Rules, will be joining the cast as a series regular next season. For more info on her role, see the previews page.

6.22.05 - Much like was the case for Beverly Hills, 90210, Tiffani Thiessen has been approached by producers of UPN's Love, Inc., which formerly starred Shannen Doherty, to play the lead. Apparently, Theissen turned it down, however.
| | |
| --- | --- |
| | Holly Marie Combs/The WB |
6.10.05 - TV Guide: Charmed Star Spells Out Secrets

by Daniel R. Coleridge

The task of bewitching TV viewers isn't always easy for the sexy sorceresses of Charmed. Take one scene in the seventh-season finale, when Holly Marie Combs, Rose McGowan and Alyssa Milano visited a vampiress' bat cave and zapped the hell out of her flock of flying critters. Those biting bats, of course, were courtesy of computerized special effects added in after the scene was shot.

"When we're all swatting at imaginary bats, it looks silly," Combs tells TVGuide.com, grinning. "There's no way to look cool doing that. It takes getting used to. You have to use your imagination and be very humble, because you are gonna look like an idiot, and you just have to accept the fact that, unfortunately, the more ridiculous you look, the more convincing it is on the screen."

It is fortunate that the show's trio of TV witches get to spend at least one more year feeling silly at work, since Charmed has been renewed for an eighth season. "The [WB] network owes it to us to let us wrap the series properly," Combs says. "I don't feel like the story has ended yet. There's so much we haven't done!"

Of course, Combs and Co. will never be done receiving fan attention — both the good and bad kinds — long after the series wraps its run.

"Many a person on the street [has asked] me if I can really freeze things or blow them up," Combs chuckles. "I'm like, 'No, no, let's not go there. Let's separate [television from] reality.' It's a kooky show, so there are some kooky folk who like it.

"It's sad, though, because some children are afraid of me, which is not good," she sighs. "I've turned into so many evil things on the show that they're not sure what to make of me. There are some parents who let their little, little kids watch the show, which I don't condone. Because you never know when it's gonna get too violent, gory or bloody. You never know with us!"

6.5.05 - E!Online asked Alyssa Milano what her guilty pleasure was, and she answered: "A guilty pleasure, to me, is something you smell and it makes your mouth water. You know you shouldn't indulge, but you do anyway. My favorite guilty pleasure is chocolate peanut butter cups."

6.5.05 - The latest news is that the second season will be released on DVD on September 6th, 2005.

5.26.05 - Shannen Doherty has been dropped as the star of the new fall sitcom Love, Inc. Although she was at UPN's upfront presentation in New York last week, UPN says "Shannen is a terrific actress, but we're going in a different creative direction with the show." An industry source says Doherty was a casualty of bad research, adding, "Preview audiences were not responding to her." The role will be recast.

5.20.05 - From TV Guide Online: Charmed Trio Avoids Fan "Outrage"

by Daniel R. Coleridge

When WB unveiled its fall sked on Tuesday, the Frog net confirmed it had renewed Charmed for an eighth season. What's more, former rock star and Extra talking head Mark McGrath will come aboard as a series regular. No word yet whether he'll play naughty or nice (or if he can act), so we won't wrap our heads around that one right now. Before the conclusion of the two-part season finale, "Something Wicca This Way Goes" (the conclusion airs Sunday at 8 pm/ET), TVGuide.com touched base with each of the three Charmed sisters in separate interviews for a glimpse into their past, present and future.

TVGuide.com: Would you have been happy if the two-part season finale were also the series finale?
Holly Marie Combs: I think there's more things for the characters to do. There's so much we haven't done yet! I could be dead wrong and I have been before. But personally, I'm not done yet! [Laughs] I'm pretty sure that this ending [wouldn't] satisfy our hardcore fans.
Alyssa Milano: None of it's wrapped up! I think at the end of a series, the most important thing is to take care of what the fans want to see. They've dedicated so much time and energy to find us, no matter what night we are on and have followed us for seven years. I think the fans would like Phoebe to settle down and find a love like she experienced with Cole, but obviously not with a demon.

TVG: What would the fan reaction have been to cancelation?
Combs: [Smiles] Outrage!

TVG: It's crazy how Charmed was kept on the bubble. You might have gotten a quicker renewal if the show were retitled Desperate Housewitches.
Rose McGowan: That seems to be the craze right now, but there's only one sister married [on the show], so I don't know how that would work. We'd all have to get married!

TVG: Alyssa, you'd be Wysterical on Wisteria Lane! You'd fit in.
Milano: Everyone thinks I should play Teri Hatcher's little sister. I get that a lot. I don't think I'd commit to it for a long engagement, but I'd definitely do a story arc on that show. If Charmed were to wrap, I [would] not make any set plans. I'm just going to spend a year traveling and doing other things. We work sometimes 85 hours a week, so it doesn't leave a lot of room for self-exploration.

TVG: Rose, you could give Nicollette Sheridan a run for her money as the neighborhood tramp.
McGowan: [Smirks] Thank you for calling me a tramp. I appreciate that. Why would I play a tramp exactly? What if I play a lady in a burlap sack? I'm not typecast. [Chuckles] Listen, you whore, look up tramp in the dictionary. That is not a flattering term. I could play the saucy bitch. How's that?

TVG: Speaking of... er, divas, let's put the perennial fan question to rest. Is Shannen Doherty ever coming back?
Milano: I don't think so. I think when she left the show, she alienated everybody. I don't think they would bring her back.
McGowan: I've actually met Shannen a couple of times and I liked her very much. She was extremely nice. Again, I wasn't here [when she left]. I don't know what the hell happened.

TVG: How hard was it for you to fit in, Rose? Does everyone really get along?
McGowan: It was a bit of an adjustment at first, but it's fine. This is a dysfunctional family. I've come to love these people, and it [has been] kind of messing with me that I might not see them anymore. Don't get me wrong, I'd be over it in two days! Just kidding.

5.18.05 - Charmed has been renewed for an eighth season and will remain on Sundays at 8pm ET.

4.29.05 - Brian Krause is the writer, director and star of "The Mission," an upcoming indie film in which he plays Jackie Zeman's (General Hospital) stalker.

4.12.05 - Shannen Doherty has signed on to star in a new show on UPN called Wingwoman, about a matchmatker who helps guys find their soul mates.

3.17.05 - It looks like the second season of Charmed will be released on DVD sometime in August, 2005.

1.24.05 - E!Online Fashion Police: Rose McGowan does a little garden partying at the WB/In Style Golden Globes bash in a sexy 'n' sweet chiffon floral-print one-shoulder gown with a bustle effect. We're totally charmed by this pale beauty, even though her hair looks like it got caught in a spring shower. Need some help pruning those petunias?

1.24.05 - Julian McMahon has agreed to return to Charmed for the show's 150th episode this April. He'll reprise his role as Phoebe's half-demon ex, Cole. "As busy as he is, as crazy as he is, and as big a star as he's become, it's just a testament to his graciousness that he would honor the fans and come back," says executive producer Brad Kern.

12.16.04 - Brad Grey Television has received a script commitment with penalty from Fox for a comedy project starring Nick Lachey portraying a retired pro baseball player coming home to his dysfunctional family, per Variety. Etan Cohen will write and exec prod.

12.15.04 - The Hollywood Reporter says that Rose McGowan is in negotiations to play Ann-Margret, Elvis Presley's costar in the 1964 film Viva Las Vegas, in CBS's upcoming Elvis miniseries.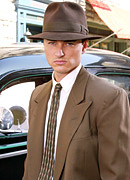 11.18.04 - TV Guide Online: Dawson's Stud Leaving Charmed?
by Daniel R. Coleridge
Dawson's Creek graduate Kerr Smith, 32, is a bona fide hit on Charmed (Sundays, 8 pm/PT on WB). In his recurring role as Agent Kyle Brody, he's won over the witchfest's devoted fans by splitting his time between probing occult mysteries and cuddling Rose McGowan's Paige Halliwell. Will this temp go perm and stay long-term? A setside source tells TV Guide Online that Smith's expected to say buh-bye in early 2005. Let's see what the studlet himself has to say....
TV Guide Online: Kerr, you've signed up for 10 episodes of Charmed. [The sixth one airs this Sunday.] Any chance you'll stay as a series regular?
Kerr Smith: They've actually asked me. It's something I would entertain. I love the group and it's a good show. On the other hand, it'd take me out of pilot season; that is usually January through April. It's a very difficult decision because you want to try and get your own show, but then, working on a show as good as theirs is also a really good deal.
TVGO: I don't hear you saying no for sure.
Smith: I guess it's still up in the air. It's a tough decision. I'd love to stay, but you've also got to move forward into the black unknown. Staying in the nice cushy job is not taking a chance.
TVGO: How's life behind the scenes? We've all heard tales of backstage drama.
Smith: You gotta understand, I come from the most amazing crew family on Dawson's Creek. I didn't think I'd ever have that again. [My TV sister] Meredith Monroe and I are still great friends. After getting to know everybody on Charmed, it was unbelievable. They welcomed me right into this friendly atmosphere with great working conditions. It's the kind of job you really don't want to leave — which is why, I'm sure, they've been there for seven years.
TVGO: So Kyle's a federal agent who's into the supernatural. Sounds familiar...
Smith: He's Fox Mulder but he's not as somber. He's more charming. But he is a mysterious FBI agent who's into the supernatural. (Chuckles)
TVGO: At least your sister wasn't abducted by aliens, right?
Smith: No — though you never know with this show.
TVGO: You're romancing Rose McGowan on Charmed. Her ex, Marilyn Manson, must be a tough act to follow.
Smith: (Snickers) A tough one, huh? Let's just keep it at a different act to follow.
TVGO: Ouch! Burn. So tell us more about Rose and Kyle's budding love.
Smith: At first, Rose's character got curious about my character because she didn't know if I'm a demon or an actual agent. Once she found out I'm good, we started working closely together against the big bad threat of this season, the Avatars. We've started to get too close, especially in the '30s noir episode we did in black-and-white last week.
TVGO: Yeah, I wondered about that. Was life actually black-and-white in the '30s?
Smith: Yeah, right. Rose and I got sucked into this magical book that was made by a couple of witches. It was a lot of fun to shoot and looks really cool. You'd think they'd run out of story lines after seven years of this crazy stuff, but they don't!
TVGO: UPN didn't pick up the pilot for Silverlake, another Aaron Spelling series you were to star in.
Smith: We shot it back in the spring. That's a bummer because we thought it would be picked up. It's set in the Silverlake neighborhood of L.A. Dead people came to me for guidance or advice to solve crimes and mysteries or save a loved one who's still alive.
TVGO: Hmm... Sounds suspiciously similar to Fox's Tru Calling.
Smith: It's similar to Tru Calling, but we made ours less serious. (Chuckles) I did say "I see dead people" at one point, but I didn't steal Haley Joel Osment's [style of] line reading.
11.11.04 - Zap2It.com: Kerr Smith is Happy to Be a Grownup on 'Charmed' - After playing a gay teen on The WB's "Dawson's Creek," Kerr Smith is happy to be playing an adult -- and having a different sort of on-screen romance....
10.26.04 - Nick Lachey will guest-star on an upcoming episode of Hope & Faith as a hot single dad who gets majorly crushed on by Kelly Ripa.
10.25.04 - From the October 29th issue of Entertainment Weekly it's Spin-off Zone! (Otherwise known as Ask the Critic, Gillian Flynn.) Are there any television characters/actors you believe could carry a spin-off? –Sophie Let me say it, Sophie: I love sassy witches. In particularly, Charmed's Holly Marie Combs. Her sensible mom o' two, Piper Halliwell, is adorably exasperated at all things silly, which would serve her well on "the outside." Should the Charmed formula ever need a tweak, I think Piper could leave her troubled marriage, set up her bar in aother windy city, Chicago, and do the single-mom thing quite amusingly. Think Bewitched's Samantha sans hubby. It's a darrin proposition, but it just might work.
10.7.04 - Nick Lachey, who is currently playing Leslie St. Claire, has signed a development deal with Fox/Brad Grey Television. According to The Hollywood Reporter, the plan is to produce a 30m or 60m series starring Lachey for next season. He currently has a deal with ABC/Touchstone for a pilot shot for the current season that was not picked up, though the option on it does not expire until the end of the calendar year.
9.30.04 - Ted at E!Online reports that, at the premiere of "I Heart Huckabees," he caught a glimpse of a stunning pair of marmalade-colored Jimmy Choos, and looky-see whose feet they were covering--the naughty Charmed gal, Rose McGowan. Asked Marilyn Manson's once-upon-a-time bitch what her everything store would have in stock, and she replied: "Chocolate-chip cookie dough. Being able to stay in the sun without burning. And no war."
9.23.04 - According to The Hollywood Reporter, Nick Lachey has signed on to play an accountant in the indie heist flick "The Hard Easy," also starring David Boreanaz (Angel) and Henry Thomas.
9.15.04 - Zap2It.com: Doherty Delivers Drama to 'North Shore' On Aug. 8, "North Shore" was a FOX summer soap trying desperately to find enough of an audience to stay afloat. On Aug. 9, FOX revealed that former "Beverly Hills, 90210" teen queen Shannen Doherty was joining the cast for at least three episodes with the possibility of a longer run. Just like magic, on Aug. 13 FOX announced that "North Shore" was getting a back-nine pick-up, the ultimate vote of confidence for a show whose fan base is devoted, if tiny....
9.10.04 - Titan Magazines, a British company which makes fan-zines for Alias, Angel, Buffy, Smallville, and Stargate SG-1, is starting a Charmed Fan Magazine. The first issue is on sale this month. For more info, check out the Titan Magazines web site.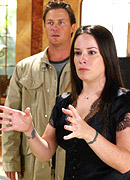 9.10.04 - TV Guide: Reunion for Charmed's Piper and Leo?
Since 2000, former soap stud Brian Krause has played Leo Wyatt, the Halliwell sisters' handyman who became their whitelighter, otherwise known as a guardian angel. Over the years, Krause has played out lotsa drama on the WB witchfest — and we ain't just talkin' about his short-lived off-screen relationship with Alyssa Milano following his divorce. As Leo, he's endured a rocky marriage to that cranky Piper (Holly Marie Combs) that looked finito last season. But there's hope for the supernatural spouses yet in Season 7, which kicks off Sunday night. Read on for the magical details....
TV Guide Online: Leo was promoted last season to an elder whitelighter, wasn't he?
Brian Krause: Right. One of the other elders, Gideon, was bad and I terminated him. So then I made the choice to come back down from the clouds to be more proactive in protecting my children and the charmed ones. I haven't turned my back on the elders, but I keep a warier eye on what's good and what's bad now.
TVGO: Leo and Piper had to split up when he went away.
Krause: Yes. Since I wasn't going to be around and we couldn't be together, I wanted her to live a life free of pain.
TVGO: Did they ever get divorced? Is their marriage even legal since Leo's a heavenly being?
Krause: I don't think there was ever an official divorce — I guess we did. That's one of the things I'm not clear on. [Laughs] I didn't get any papers! I don't think there was a settlement and I don't know how Leo finds money to buy clothes or anything like that. I guess the witches have a trust fund or a good 401K. None of us can use our powers for personal gain, though. We can only protect people.
TVGO: That bites. I'd rather be a bad witch and have fun.
Krause: Then we'd have to vanquish you!
TVGO: I dare you to try. So anyhoo, where does Leo pick up this season?
Krause: I've gone out on my own hunting demons, hunting whoever is after my child and trying to terminate them. I'm no longer following the rules of the elders. I'm kind of making up my own rules now. There's constant attacks against the charmed ones and my son, so I'm trying to stop all that and put an end to all evilness. The nice thing is my character is not so soft anymore. I'm now more badass. I'm not just orbing places or healing people, I can blow stuff up!
TVGO: Leo and Piper are getting back together, right?
Krause: I haven't read that in a script yet, but I would imagine it'll happen. Leo wants to be with Piper and she wants to be with him. And we're around each other more now that I'm not "up there." We were close and intimate one night at the end of last season....
TVGO: Hope Leo doesn't mind that she'd been with other men.
Krause: She went on a couple of dates last year. Leo was pretty jealous — 'cause it's his wife! It's not like we broke up because we didn't get along; it was circumstances. I want her to be happy, but no touchy-touchy with other guys!
by Daniel R. Coleridge
8.31.04 - Kerr Smith (Dawson's Creek) will be joining the cast of Charmed and will first appear on the show in October. For more information on his role, see the previews page.
8.26.04 - TV Guide Online: Charmed Gets Charisma
Charisma Carpenter is best known from her popular stints as Cordelia Chase on Buffy the Vampire Slayer and its spin-off, Angel. What's she been doing since both vampire shows bit the dust? Last year, she gave birth to son Donovan Charles (who's now 16 months old). Then this June, the 34-year-old Hollywood mom reclaimed her va-va-voom by posing nearly nude in Playboy. She'll continue her hot streak by guest-starring as a sexy seer on Charmed in at least two episodes. (Her first appearance airs Sept. 26.) Last week, TV Guide Online visited the Charmed set to watch Carpenter torment costar Brian Krause (Leo) with her spooky predictions. We also stole some time to dish between scenes.
TV Guide Online: David Boreanaz recently told TV Guide he'd be willing to do Angel feature films, but not TV-movies. Could Cordy make a return from the dead someday?
Charisma Carpenter: I read that snippet about David in TV Guide! You know, I'm not interested. Not because of David or anyone I worked with. I think we're all just done. I don't think my fans should be offended because they're not Angel or Buffy specific. They've proven over time that they'll follow me no matter what I do, so I'm not afraid of taking anything away from them and I hope they wouldn't feel that way.
TVGO: Cordy was psychic on Angel. Now you're a seer. What's up with these ESP roles?
Carpenter: Another psychic! At least I'm not in a coma on this show. They're both sassy girls, but this character is more of a temptress than a smartass. She's toying with Leo.
TVGO: Does your character have a name?
Carpenter: She's just "Seer." We'll see if we see more of her before she gets a name!
TVGO: Might you do more than two episodes?
Carpenter: I'm happy to do more. It would depend on whether my pilot is picked up. I'm thrilled to be here because I have a relationship with Holly Marie Combs (Piper). We did my ABC Family movie See Jane Date together and we're both new moms. It's also interesting to be back doing this supernatural genre. I know it and it's familiar.
TVGO: How about this pilot of yours?
Carpenter: It's a possible midseason replacement sitcom for UPN. It was called Play Nice, but now it's called Like Cats and Dogs. I'm the girl on the show, and it's about my life with my fun-loving brother [played by Canadian actor Tyler Labine]. I'm an uptight lawyer and he comes to live with me and my houseful of dogs.
TVGO: If the sitcom didn't happen, wouldn't it be fun to join Charmed as a regular?
Carpenter: I think working with girls would be great, especially since Holly's a mom and a producer. The only reason I would hesitate is that the shooting schedule of a one-hour drama is a lot for a new mom. It'd be great to work with her, 'cause she gets it. So yeah, I'd definitely be open to talking about it.
TVGO: By the way, many mothers might be envious of your having a baby and then doing Playboy!
Carpenter: That came about because I had a baby and got so bloody fat. I gained 50 pounds. I needed something to motivate me to get my butt in shape. It's vanity, really. Right after I signed the deal with Playboy, I did hard-core training for 20 days.
TVGO: Any hesitation about posing for the lad mag?
Carpenter: It was all very agreeable and they allowed my husband to be on set to make sure everything was cool, and it was. I'm really pleased with the photos and I don't have any regrets. I expect there are people out there who would hope that I would. They may judge me, but I'm not feeling regret right now. I guess I'll cross that bridge with my son when I come to it....
TVGO: You appeared topless, but the photos weren't raunchy.
Carpenter: I felt good about it. I figured if I did films, I'd have to show my breasts at some point. Why not take beautiful pictures for posterity while I'm young?
TVGO: Your midriff-baring outfit on Charmed will be memorable, too!
Carpenter: The Seer's like a jezebel. Women on Charmed have to look hot. That's the sense I'm getting. Every single one of [the witches] are notoriously sexy women!
by Daniel R. Coleridge
8.26.04 - Ted at E!Online reports that Alyssa Milano was seen throwing love smooches from the stadium to the field at an A's versus Royals game. Network Associates Coliseum. Oakland. A.L. has moved on from Florida Marlins playa Carl Pavano and cozied up with A's hot-commodity pitcher Barry Zito, who waved and winked from the field. Clad in a yellow Oakland-rootin' sweater, the Charmed sweetie was sitting with mayor Jerry Brown. But check this out: Barry-hon pulled a semi-romantic gesture and messengered a box of Junior Mints Alyssa-baby's way.
8.19.04 - Rumor has it that Julian McMahon is in talks to be the next James Bond.
8.17.04 - Rumor has it that Charisma Carpenter (Cordelia from Buffy the Vampire Slayer and Angel) will have a recurring guest role this season, and will first appear in the 3rd episode. For more info on her character, see the previews page.
8.9.04 - TV Guide Online reports that Shannen Doherty is joining the cast of Fox's nighttime sudser, North Shore. She'll play Alexandra Hudson, the bitchy long-lost sister of Nicole (Brooke Burns). According to The Hollywood Reporter, Doherty's signed on for a three-episode arc, with an option to become a series regular if the network orders a second season of the show. Perhaps they're hoping the former Charmed sorceress will cast a Locklearian spell on North Shore's less-than-impressive ratings? "The comparison to Heather has been brought up to me," Doherty said. "It's great. I'm lucky because I have a really loyal fan base, and I hope they come over."
8.3.04 - Rumor has it Shannen Doherty may show up on FOX's North Shore someime soon....
7.13.04 - Scare Tactics will move forward with Season #3 with a new host - Stephen Baldwin will replace Shannen Doherty. According to Variety, Doherty chose to leave the post after 8 episodes for Season #2, and Baldwin was signed to do the third season's 14 episodes. Has Shannen Doherty EVER stayed with a show for its entire run?
7.5.04 - Singer/actor/reality TV Star Nick Lachey will guest star in six episodes of Charmed this fall. For more information on his role, see the previews page.
5.19.04 - The WB confirmed that Charmed will be returning next year in its Sunday 8pm ET time slot.
5.10.04 - Holly Marie Combs gave birth to a baby boy April 26 in Los Angeles. Finley Arthur Donoho is the first child for the actress and hubby, David Donoho.

Alyssa Milano
by Timothy White/WB
4.30.04 - From TV Guide Online: Alyssa Milano's Charmed Future

Playing the same TV character for six years can get a little boring. Unless you're Alyssa Milano. As Phoebe Halliwell on the WB's Charmed, Milano's gone through more than enough costume and personality changes to keep the magic alive for her. "When you're a little girl and you're in this business, which I was at 7 years old, that's what it's all about — playing dress-up," Milano says. The witchy woman — who has turned into a mermaid, a mummy and the Queen of the Underworld, just to name a few — really spices things up on Sunday, when she goes undercover as a dominatrix assassin. TV Guide Online asked Milano to borrow Phoebe's premonitory powers to foretell the future of Charmed.

TV Guide Online: Charmed was recently renewed for its seventh season. Will that be the last one?
Alyssa Milano: We're all contracted for eight years. But I think we all feel like we want to go out on top. So if our ratings are as strong as they are this year, we'll probably go for an eighth season. And if it starts to slip, we'd all decide to end after the seventh season. It's a tricky thing to know when the right time to end a show is.

TVGO: A lot of shows are struggling with that now. What do you want for Phoebe before the show ends?
Milano: She's been through so much with love that, clearly, I'd love some sort of storyline where she's in a stable relationship. And that's so much fun for me to play, as far as just the romantic-comedy stuff. We did an episode this year where we saw Phoebe's future, and she was pregnant, so I don't know what they're going to do with that. Although I would not be looking forward to wearing that weird latex belly. Holly Marie Combs wore that belly and it was stinky! It didn't matter what you had on as far as perfume or clothes on top of it — you could smell it a mile away.

TVGO: Are there any shows that have wrapped up in a way that you think really worked well?
Milano: When you watch a show and you get so invested in the characters and the people, I think it's really important to end a show how the audience wants it to be ended. Tie up all the loose ends. It's kind of like the reward for the fans for sticking in there as long as they have. Who's the Boss? is a perfect example of it not ending the way it should have — because everyone wanted Tony and Angela to get married and they never did. And I think that's taking something away from the fans who have invested so much time and energy into caring about these people.

TVGO: What do you think Charmed fans would like to see?
Milano: I think definitely Piper and Leo being back together. I know that they're really invested in that relationship. They all wish Cole, my demon boyfriend [played by Nip/Tuck's Julian McMahon], would come back, too. But I don't think that's going to happen, since he's busy on his own show now.

TVGO: How will you spend your hiatus from the show?
Milano: I will be taking my first field trip as a UNICEF ambassador. We're going to Angola. [I'll be doing] everything from vaccinating children to rallying kids to get back in school.

TVGO: How did you get involved with that?
Milano: I contacted them about six months ago, when I took a trip to South Africa. I lived there for three months and did a lot of humanitarian work in children's hospitals and townships. When I got back to the States, I started volunteering in a children's hospital and I needed to find an outlet. UNICEF just seemed to be the way to go after much research. I contacted them and they were happy, and now, I'm happy.

TVGO: And now for your obligatory Shannen Doherty question. Do you ever look over your shoulder worrying Shannen might pull a Scare Tactics trick on you?
Milano: [Laughing] That's funny. No, but I have had the fear of being Punk'd!

TVGO: Paging Ashton Kutcher...

4.19.04 - E!Online Fashion Police - Ho Down: Rose McGowan turns tricks at the Glamour Magazine "Don't" party in Hollywood. Bet Rosie dug deep in her closet for this call girlie getup: pink tube top, satin ruched mini, faux Vuitton bag and pink wooden platforms. Good thing she meant to wear the fashionable Don'ts as a joke, 'cause for a second there....

3.9.04 - Okay, so it's a little early, but someone has already created a petition to keep Charmed on the air for an 8th season (it's already been renewed for next season, its 7th).

2.20.04 - Holly Marie Combs, 7 months pregnant, married her boyfriend, David Donoho, on Valentine's Day. From their press release:

The couple eloped to the San Ysidro Ranch in Montecito, CA. "We're both kind of shy about saying our vows in front of a large group of people," says Combs. "We decided to make it about our commitment to our new family," says Donoho. To make it about their new family, the couple decided to create elements of their celebration that forge traditions they can pass down to their son. A good example was the urns and pedestals used at the altar area. Having a green thumb herself, Combs asked her floral designer to use containers that she could take home and incorporate into her garden. "I especially like the idea of filling the urns with flowers on our anniversary. We will definitely be using them as focal points for the larger reception we plan to have after the baby is born." Combs also ditched the idea of saving the top tier of the wedding cake to eat on their first year anniversary and opted to start her own tradition by adorning the top tier of their cake with "cake jewelry" from www.ParisTiaras.com. Theirs is a tiara styled as a birdcage strewn with enamel flowers complete with a set of lovebirds. Combs says "We'll use it year after year on anniversary and other celebratory cakes." Donoho, on the other hand, has his own thoughts on Holly's new cake tradition: "I hope Holly doesn't plan to bake the cake on our anniversaries. I love her, but her baking isn't exactly good eatin'."

The wedding gifts were also in the spirit of forging new traditions. The Milano family gave the couple a silver wedding cake plateau engraved with their wedding date and the famous Beatles quote: "And in the end...the love you take...is equal to the love you make." Their gift included inspiration about how the plateau could be engraved with the date and occasion each time it is used; on birthdays, anniversaries, holidays, etc.

Considering all the excitement surrounding the baby, it's a wonder any wedding plans were hatched at all. With the help of author and expert wedding planner Allana Baroni, floral designer Jennifer McGarigle of Floral Art in Venice, CA and the superb staff of the San Ysidro Ranch, it came off not only "sans hitch" but also as the perfect reflection of the excitement Holly and Dave radiate about their new life together. "Their enthusiasm was permeable," says McGarigle. "Holly's love for fragrant flowers was the basis for the floral décor." The urns at the altar area were filled with Tuberose blossoms, Narcissis, champagne to blush colored roses, antique green Hydrangea with accents of white Cymbidium Orchids. "Her bouquet was intoxicating, it left a trail of perfume as it passed by; the gardenias and garden roses were the most beautiful I've ever seen," said their wedding photographer. When Donoho was asked about his thoughts on the flowers he said, "I couldn't take my eyes off the person carrying the flowers." Baroni summd it up best when she said, "It's true what they say about brides being beautiful, and when you add the glow expectant moms emanate, Dave was overwhelmed the moment he saw Holly."

2.10.04 - Charmed has been officially picked up by the WB for a 7th season.

2.7.04 - Zap2It.com: Keeping the Magic Alive on 'Charmed' - With "The Lord of the Rings" straddling the movie world with its wildly successful trilogy, and "Harry Potter" looking to do the same, there would seem to be no better time than now for fantasy on the big screen.

On the small screen though, fantasy generally has had a tougher time than its genre siblings -- horror and science fiction. It's fine to have mythical creatures and magic, as long as you toss in a few vampires or put everyone on an alien planet.

The exception to this is The WB's "Charmed," the supernatural drama about three sister witches battling evil in San Francisco. It survived the departure of one of its original stars, Shannen Doherty (successfully replaced with Rose McGowan), and has managed to keep its audience despite a variety of time slots and nights....

1.30.04 - Kristin from E!Online reminisces about her time at the Golden Globes...

Best BS-er: "Are you bulls--ting me? You are! Well, this is a good place to bulls--t people," Julian McMahon said after I told him on the red carpet I had predicted Nip/Tuck to win that night. (I later got a kick out of watching Finola Hughes, host of the Style Network's How Do I Look?, playfully razzing J.M. for not remembering her from her stint on Charmed. D'oh!)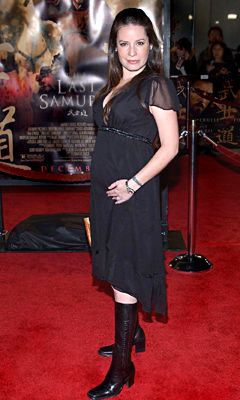 12.3.03 - From TV Guide Online: Baby Boom: A pregnant Holly Marie Combs felt a few kicks before she saw the premiere of The Last Samarai.

11.30.03 - tvshowsondvd.com reports (actually, they reported this in October, but I only found out about it recently) that Charmed will not be available on DVD until 2005 at the earliest.

11.6.03 - Zap2It.com: 'Charmed' Gets Medieval - In the attic of the Halliwell mansion in San Francisco, a mighty battle rages for possession of a powerful magical object. OK, this is a pretty common occurrence in The WB's magical drama "Charmed," but what sets this fight apart is that the prize is not some bizarre orb or talisman or amulet. Drawn from a stone sitting in the house's garden conservatory, it is none other than the most famous of all swords -- Excalibur....

10.30.03 - Charmed sorceress Holly Marie Combs reveals in the next issue of TV Guide magazine (on sale Monday) that she is expecting her first child with longtime boyfriend David Donoho in April. For more on how the character of Piper is going to deal with this, see the previews page.

10.27.03 - Zap2It.com: Doherty, Milano Don't Care to Be 'Punk'd' - On Sunday, Oct. 26, at 10 p.m. ET, MTV premiered the second season of "Punk'd," the hidden-camera show in which "That '70s Show" star and Demi Moore toyboy Ashton Kutcher plays hard-hitting pranks on unwitting fellow celebrities....

10.16.03 - Zap2It.com: Balthazar Getty Is 'Charmed' by The WB - "They just called me up," says Balthazar Getty, "and asked me if I wanted to do it. I thought it was a fun, cute little show. It just seemed to make sense. I thought it would be fun, and here I am." On Sunday, Oct. 19, at 8 p.m. ET, in "Love's a Witch," an episode of The WB's magical drama "Charmed," Getty -- to be seen in January in the USA Network miniseries "Traffic" -- begins a guest-starring stint as Richard Montana, the scion of a family of warlocks caught in a feud with another clan....

10.7.03 - From TV Guide Online: It seems Shannen Doherty is ready to laugh about her bad-girl persona. According to The Hollywood Reporter, the former 90210/Charmed hellraiser has inked a deal with NBC to star in a sitcom about a "young woman who is stuck with a rep of being headstrong and nasty but is nice and fragile at heart." Okay, so it's loosely based on Doherty's life.

9.24.03 - Zap2It.com: 'Charmed's' Clash of the Whitelighters - They're dead, they're mystical, and they don't like each other very much. In the last moments of last season's finale on The WB Network's "Charmed," the fate of good Whitelighter Leo was left in question -- until the show's season premiere Sunday, Sept. 28....

9.19.03 - The WSPA (The World Society for the Protection of Animals) kicks off its internet auction to benefit animals at www.GoBid.ca, starting October 1st until midnight October 31st! There are over 100 items up for grabs, including a B&W 8" x 10" autographed photograph of Alyssa Milano.

9.12.03 - The Charmed Soundtrack is now available and you buy it here. It includes "Hot" by Smash Mouth, "Danger" by Third Eye Blind, "Strict Machine" by Goldfrapp, "Maybe Tomorrow" by Stereophonics, Rinse by Vanessa Carlton, "I Can't Take It" by Andy Stochansky, "Worn Me Down" by Rachael Yamagata, "Do You Realize" by Flaming Lips, "Balligomingo" featuring Lucy Woodward, "Rainbow in the Sky" by Ziggy Marley, and "How Soon Is Now" by Love Spit Love.

9.4.03 - TV Guide Online: David Spade's Child Star Search - Funnily enough, Who's the Boss? alumna Alyssa Milano landed a character role, instead of a cameo. "It is funny that nobody mentions that Alyssa Milano was a child star, because she landed on her feet," he says. "She's doing great, cute girl, works — and there is no story. We want to see the guy from, like, Three Dog Night sleeping in an alley, finding his teeth on the ground, because they fell out of his head."

8.20.03 - Zap2It.com: 'Charmed' and Dangerous - At the end of season five of The WB's Sunday-night magical drama, "Charmed," Leo (Brian Krause), a mystical Whitelighter (departed souls who take physical form to watch over good witches), was promoted to an Elder. This forced him to bow out on his marriage to witch Piper (Holly Marie Combs) because of the demands of his new, exalted position....

8.6.03 - Pictures of Holly Marie Combs and Alyssa Milano attending the Teen Choice Awards at Yahoo: 1 2 3 4 5 6 7 8 9 10 11 12 13 and a picture at E!Online.

7.30.03 - The 2-hour season premiere will air on Sunday, September 28th.

7.30.03 - Zap2It.com: 'Charmed' Copes With Single Motherhood - Fans who were present for the fifth-season finale of The WB's "Charmed" know that the star-crossed marriage of good-witch Piper (Holly Marie Combs) and her mystical Whitelighter guardian, Leo (Brian Krause), has hit a snag that not even Dr. Phil could solve....

7.24.03 - Ted at E!Online reports that Alyssa Milano was seen hugging pals and giggling hysterically at the 12-step-tampering, bimbo-and-Hell-Ay-bashing play Blackout. Egyptian Arena. Hollywood. Thought it was Alcoholics Anonymous, but what the hell do I know about staying off the booze for 13 years? Looking charmed 'n' chic with her new super-short haircut, A.M. showed some skin--and her bitchin' tats--in a rose-print sundress. Such the buff babe, these days.

7.14.03 - E!Online: Boy Trouble and Tantrums Trail the 90210 Icon's Not-So-Charmed Life

6.27.03 - Ted Casablanca at E!Online reports that Shannen Doherty was spotted at Coffee Bean &amp Tea Leaf on the Sunset Strip sashaying in for a buzz with a boy-unit on her slim arm. Dressed in her best weekend wear of purplish sweats with a tee and sweater, the Scare Tactics host was quite laid-back this par-tick day. Love it, doll, really--don't ever change!

6.17.03 - TV Guide Online: What Scares Shannen Doherty? - As host of Sci Fi's guiltiest pleasure, Scare Tactics (which returns with new episodes Friday at 10 ET), Shannen Doherty is an accomplice to all manner of terrifying pranks. So she can't be entirely surprised by our first question: What would really freak her out?...

6.12.03 - TV Guide Online: Will S.Do Take On J.Lo? - When you think of TV's great musicals, you probably think of Bette Midler in Gypsy or Brandy in Cinderella... highfalutin fare like that. But us? No way, man. We think of Shannen Doherty in 1997's rockin' revamp of All About Eve, Friends 'Til the End....

6.12.03 - From TV Guide Online: Former Angel leading lady Charisma Carpenter is hooking up with Joe Millionaire's Evan Marriott -- well, sort of. Marriott will play one of several single guys courting Carpenter's title character in the upcoming ABC Family telepic See Jane Date. Among her other suitors: Antonio Sabato Jr., Zachary Levi (Less Than Perfect) and Geoff Stults (7th Heaven). The comedy -- which co-stars Charmed sorceress Holly Marie Combs -- starts filming Friday in Montreal.

6.3.03 - Don't miss Rose McGowan in the feature film "Ready to Rumble," airing this Wednesday on the WB.

6.3.03 - From TV Guide Online: Good news for Shannen Doherty: Sci-Fi's Scare Tactics is getting an extended run. The network has ordered nine new episodes of the spooky Candid Camera rip-off hosted by the 90210 and Charmed alum. They start airing June 20. And you thought she couldn't succeed without Aaron Spelling!

6.3.03 - Charmed Action Figures Announced - Collectors to get "Charmed" in 2004! Move over Angelina "Lara Croft" Jolie, Tomb Raider's heroine isn't the only femme fatale that S.O.T.A. is producing in action figure form! The heroines of the weekly TV show "Charmed" will get immortalized by the company next February....

5.31.03 - T.W. King, who played Prue's cop boyfriend Andy in the first season, will reprise his role as Luis Alcazar on the ABC daytime soap General Hospital starting June 5th (credited as Ted King).

5.13.03 - It's official! Charmed will be back for a sixth season on the WB, and will remain in the Sunday, 8pm ET time slot.

5.9.03 - Zap2It.com: Drew Fuller Enjoys a 'Charmed' Life - New Bat time. Same Bat channel. After a brief stint on The WB's ill-fated martial-arts drama "Black Sash," 22-year-old Los Angeles native Drew Fuller has landed on another, more successful, WB show, the magical "Charmed." "Today, I'm in heaven," he says, calling in from the "Charmed" set. "I go to heaven." Fuller makes his debut in the two-hour, fifth-season finale, "Oh My Goddess," airing Sunday, May 11, at 8 p.m. ET., in which the ancient Titans are released from their prisons beneath Arctic ice and seek vengeance on their jailers, the oft-mentioned but seldom seen Elders....

5.9.03 - TV Guide Online: Charmed Goddesses Do Battle! - For years, the ladies of Charmed have had a bad rep for being bitch goddesses. True or no, they'll sure act like divas in Sunday's two-hour season finale, 8 pm/ET on WB, when the Charmed Ones turn into Greek deities to clash with titans....

5.9.03 - TV Guide Online: Shannen Doherty Speaks! - No one was more surprised that Shannen Doherty agreed to participate in Fox's Beverly Hills, 90210 reunion special than, well, Shannen Doherty. "To be honest with you, my first reaction was, 'Hmmm... no thanks,'" admits the 31-year-old actress. So, what made West Beverly's most notorious bad girl change her mind and sign up for 90210: 10 Year High School Reunion (airing Sunday, 9-10 pm/ET)? And what about talk that zip-code-mate Tori Spelling bowed out due to a long-standing feud with her? To set the record straight, the Scare Tactics ringmaster spoke to TV Guide Online and served up enough hot dish to make good ol' Nat proud....

5.7.03 - A preview of Julian McMahon's new show on FX, Nip/Tuck.

4.22.03 - Zap2It.com: '90210' Cast Returns to West Beverly - lmost 10 years to the day they walked out of class shouting "Donna Martin graduates!," the cast of "Beverly Hills, 90210" is coming back to FOX for a reunion special. Alas, Donna herself, Tori Spelling, isn't scheduled to take part. Several other members of the original cast, including prodigal daughter Shannen Doherty, will be part of the special...

4.22.03 - SHANNEN Doherty says her wild clubbing days are behind her, but that doesn't mean she regrets them. The 32-year-old host of the "Scare Tactics" TV show tells Steppin' Out magazine's Chaunce Hayden: "When you're 18, and bars are letting you in, and you have the red carpet rolled out for you, what 18-year-old isn't going to take advantage of that? I know what I did, and I had a lot of fun. I lived my life as I would normally live my life and I didn't worry about being recognized, and I never felt like I had to lock myself up in my house and behave a certain way."

4.14.03 - MSN Entertainment: Scare Tactics - She isn't living the Charmed life any longer, but Shannen Doherty is still involved in scary stuff....

4.4.03 - The April 4th issue of Entertainment Weekly asks Shannen Doherty a few stupid questions on page 88.

3.28.03 - TV Guide Online: Meet the New Hunk on Charmed - "A good opportunity at the right time." That's how Eric Dane sums up his four-episode stint on the WB's popular witches 'n' warlocks series Charmed. The 30-year-old Gideon's Crossing alum joins the cast Sunday as Jason Dean, the new owner of the Bay Mirror Newspaper and, more importantly, a love interest for Phoebe....

3.25.03 - Charmed has been officially renewed for next season.

2.19.03 - Julian McMahon will be starring in a new FX drama called Nip/Tuck about a plastic surgery center. Also starring are Dylan Walsh and Joely Richardson.

2.7.03 - The first ever Charmed Convention will take place in Paris, France, on the 28th and 29th of June, 2003. Holly Marie Combs will be a special guest. For more info, see http://www.frenchcitycon.com.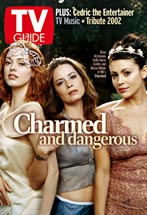 12.28.02 - Charmed is the current cover story of TV Guide.

1.18.02 - TV Guide Online and New York Daily News report that Greg Vaughan (ex Dan on Charmed, soon to be ex Diego on The Young & the Restless) has landed the part of the recast Lucky Spencer on General Hospital. He first airs February 20th.

12.6.02 - TV Guide Online: Charmed Angel Copes with Witchy Wife - Nothing against Charmed starlet Holly Marie Combs, but her Piper Halliwell has been less than charming lately. In fact, if we weren't so polite, we'd call this character something that only rhymes with witch. Is she still sad about Prue's (Shannen Doherty) demise? Or stressed out by the demons trying to kill her other sisters in sorcery week after week? Here, TV Guide Online asks Brian Krause, who plays Piper's saintly hubby, Leo, why his TV wife is such a damn shrew....

12.3.02 - TV Guide Online: Charmed's Red Rose Secret! - Veteran TV producer Aaron Spelling used to be notorious for micromanaging the details of his shows. Time was, if an actress wanted to alter her hair color or style, she did so by committee! Seems he's easier-going these days, since Charmed star Rose McGowan dyed her 'do red without asking permission first, and lived to tell the tale!...

11.27.02 - The 100th episode will be Julian McMahon's last. More from Wanda at E!Online.

11.3.02 - Alyssa Milano is in the November issue of FHM magazine.

10.25.02 - TV Guide Online reports that Shannen Doherty has separated from her second husband, internet entrepreneur Rick Solomon.

10.14.02 - Alyssa Milano was #48 on TV Guide's list of the 50 Sexiest Stars of All Time. Copper-toned and curved to perfection, Alyssa Milano has become a pinup we can't put down. The actress exposed nearly all in those revealing photos in Maxim and FHM, but thankfully, there's more to Milano than cleavage and barely-there tankinis. As the bewitching babe of WB's Charmed (1998-present), Milano creates an enchanting blend of sensuality and silliness that spills over into those kittenish 1-800-Collect commercials. We'll gladly accept her call.

10.11.02 - From the October 5th issue of TV Guide: It's not easy pretending to be pregnant on TV. First a mold of your real belly has to be cast, then you have to strap on a big ol' fake belly that gets bigger as time goes on. Special-effects makeup artist Todd Tucker created Jennifer Aniston's stomach for Rachel's pregnancy on Friends. Now he's at it again with Holly Marie Combs of WB's Charmed, whose character will start showing in January. But why can't he just recycle Aniston's stomach? "I don't think Jennifer's belly would fit me," Combs says with a laugh. "She's a tiny, tiny little thing." And Combs isn't?

10.11.02 - Don't miss Holly Marie Combs in the November issue of Stuff magazine.

9.13.02 - TV Guide Online: Alyssa Milano Nixes Boss Reunion - The Cosby Show's Lisa Bonet isn't the only '80s sitcom star shunning her TV roots. Alyssa Milano reveals that she has no interest in reprising her role as Tony Danza's precocious daughter Samantha for a Who's the Boss? reunion movie....

9.5.02 - TV Guide Online: Alyssa Milano: Splish Splash? - Here's one surefire way to ensure that Charmed's young male fans follow the WB drama to its new home on Sunday nights this fall: Dress up series star Alyssa Milano as a sexy mermaid, as producers did for the show's two-hour season premiere...

8.13.02 - TV Guide Online "Caught in the Act" - Charmed, I'm sure: Holly Marie Combs showed up to support her co-star Alyssa Milano, whose work was featured in the photography show and auction "Picturing a New South Africa."

7.24.02 - The season premiere of Charmed will air on September 22nd.

6.27.02 - The Sci Fi Channel has tapped Shannen Doherty to host a new hidden-camera reality show titled Scare Tactics. Described as a sci-fi version of Candid Camera, Scare Tactics will secretly film pranks inspired by sci-fi movies. According to The Hollywood Reporter, Sci Fi plans to launch the show in October.

6.7.02 - Alyssa Milano was named one of the Top 10 Sexiest Women in the World by the mens' magazine FHM.

5.14.02 - The WB announced their fall schedule today, and Charmed is moving to Sundays at 8pm ET next season.

5.9.02 - Shannen Doherty says she wouldn't go back to Charmed for a million dollars an episode, and more, at E!Online.

5.8.02 - There is a nice photo of Shannen Doherty and her husband in People's 50 Most Beautiful People Special Edition. The magazine reports that it's the first time that they have gone out publicly since their wedding.

5.2.02 - TV Guide Online: TV Talker's Charmed Life - Since Charmed debuted in 1998, Dorian Gregory has played San Francisco copper Darryl Morris, a former non-believer who befriended the show's trio of witches....

4.10.02 - NBC Enterprises has filled out its daytime talker The Other Half with a fourth host - actor Dorian Gregory will join Dick Clark, Danny Bonaduce and Mario Lopez starting on Monday. The Other Half has been renewed next season by the Hearst Argyle group and the Gannett station group, though clearances in New York and LA have not been done yet.

3.29.02 - Transcription of Julian McMahon, Brian Krause and Dorian Gregory's appearance on the talk show The Other Half.

3.21.02 - TV Guide Online "Caught in the Act" - The ice age: Rose McGowan — pictured here with Women's Wear Daily's Rose Apodaca-Jones — discovers that white is the new black while modeling diamonds and pricey ensembles at a pre-Oscar fashion event in Los Angeles, Calif.

3.5.02 - Zap2It.com: 'Charmed' Wedding Dress Lands on eBay - The wedding itself will definitely be one of those "Charmed" affairs, meaning it's probably going to end in tears -- but Phoebe Halliwell's gown could make some size zero future bride, or any size fan, very happy. The WB and Spelling Television are auctioning off the wedding dress Alyssa Milano's character will wear in the upcoming episode "Marry-Go-Round." Designed by St. Tropez, the full-length gown has an off-the-shoulder neckline, and also features beading and lace on the bodice and train....

2.15.02 - Coolio will guest star on Charmed in March. For more info on his role, see the previews page.

2.7.02 - Ted Casablanca at E!Online reports that Shannen Doherty was spotted showing her softer side at the happiest place on earth, Disneyland. Along for the ride were a seven-year-old cutie and (fully grown) new hottie-hubby Rick Solomon in a black sock hat. S.D. threw a little weight around, and her group jumped to the front of the line for Pirates of the Caribbean. Yep, ex-90210 status still comes with perks.

2.7.02 - TV Guide Online: Jealous Power Trip on Charmed Set! - After Shannen Doherty packed up her pointy hat and rode her broomstick away from Charmed, the remaining members of the WB series's coven of witches, Alyssa Milano and Holly Marie Combs, hoped that the only scary creatures they'd encounter in the makeup trailer would be reporters. Alas, it turns out Doherty's replacement, Scream queen Rose McGowan, is a green-eyed monster....

2.5.02 - Surprise! Shannen Doherty got married last week to Rick Solomon. They were married in Las Vegas in front of about a dozen friends and family.

2.1.02 - "Jay and Silent Bob Strike Back," starring Shannen Doherty, comes out on video on Februrary 29th.

1.16.02 - Zap2It.com: WB Has Some Fun at the Expense of Al Qaeda, Doherty

1.16.02 - Zap2It.com: Rose McGowan Settles Into the 'Charmed' Life - If Rose McGowan could have one superpower, it would be to fly... 11.8.01 - Stuff cover girl Alyssa Milano fires back at her ex-Charmed co-star Shannen Doherty in the mag's December issue. "It seemed [Shannen] was so angry and upset over leaving another hit show that she had to lash out at me," tattles Milano. "Suddenly, it's my fault." Later, the TV witchconfesses: "She was like a bad roommate... I have a fear of confrontation, and she can be aggressive, so I was afraid of her."

10.20.01 - Zap2It.com: TNT 'Charmed' by Sharing with WB - The successful debut of "Charmed" repeats on TNT has the cable network and The WB, home of the witchy drama, interested in sharing more programming...

9.12.01 - "Rose McGowan is an amazing replacement – she'll fit in with the other two girls," Finola Hughes (Patty) tells Soap Opera Digest. "I met her at a party when she was going out with Marilyn Manson. We talked, and he chatted with my husband. He's really smart."

9.6.01 - Safesearching.com: Alyssa Milano Talks About Charmed Changes

9.1.01 - There is a great article on Shannen Doherty on page 32 of the September 1st issue of TV Guide entitled "The Power of One."

8.31.01 - Greg Vaughan (season 2's Dan Gordon) seems to be following in Shannen Doherty's footsteps. The 28-year-old actor, who currently is attached to The WB midseason show "Glory Days", was arrested for investigation of drunken driving after he was pulled over Thursday (Aug. 30) morning for speeding, according to the AP. "He was speeding and straddling the lane," says police spokeswoman Victoria Diaz. A Breathalyzer test showed Vaughan had a blood alcohol level of .08, the legal threshold for making the arrest, according to Diaz. The actor was booked and released pending a court appearance.

8.27.01 - Electronic Media: WB stirs flap over CPMs - Are viewers who watch "Charmed" on The WB more valuable to advertisers than the viewers who will watch it this fall on TNT? It is a watershed question to be addressed as The WB tries to strike deals with advertisers to run the same national commercials in "Charmed" on The WB as when it's repurposed later in the week on TNT....

8.25.01 - Don't miss the fabulous interview with Holly Marie Combs and Alyssa Milano on page 30 of the August 25th issue of TV Guide. As Alyssa Milano and Holly Marie Combs finally come clean about Shannen Doherty, the question remains: can a reconjured Charmed still work magic?

8.10.01 - From the August 10th issue of Entertainment Weekly: Wasn't a return to Growing Pains enough? Now the folks behind Who's the Boss? are talking about a reunion movie for ABC, though Tony Danza says he'd prefer it to feature a half hour of behind-the-scenes footage that leads into a 30-minute reunion episode. "We did 199 episodes, so this would be the 200th episode and it would be like a fantasy camp," says Danza. "Everybody's still around, and I think everybody wants to do it. Even maybe Alyssa Milano."

8.10.01 - Alyssa Milano and Brian Krause are featured in the "Young Hollywood in Love" article in the August 11 issue of TV Guide.

8.8.01 - There is a new Charmed book out called "Beware What You Wish." For more info, see the Merchandise page.

8.7.01 - "Women of Charmed," a behind-the-scenes look at Charmed, will re-air on E! on Sunday, August 12th at 3pm ET.

7.30.01 - The July 31st issue of Soap Opera Digest reports that love bloomed on the set of Charmed for Shannen Doherty and Julian McMahon. Sources confirm the two are now an item. The duo recently wrapped the USA-TV movie "Another Day" and Doherty can be seen in "Jay and Silent Bob Strike Back" in August. (Note from TK: it's so weird that Alyssa is dating Piper's on-screen love and Shannen is dating Phoebe's on-screen love.)

7.25.01 - Wanda at E!Online reports that Alyssa is the new It girl for the show, and is receiving a higher paycheck than Holly Marie.

7.16.01 - TV Guide Online: Shannen Doherty Speaks Out! - Scrappy Shannen Doherty may have bought the farm on Charmed, but her afterlife has already begun...

7.2.01 - "Goldrush: A Real-Life Alaskan Adventure," starring Alyssa Milano, will air on ABC on Sunday, July 15th.

6.30.01 - The National Enquirer recently reported on Alyssa Milano and Brian Krause's hot and heavy affair, and Brian made their first date behind his wife's back. Beth Krause, Brian's wife, has recently filed for divorce, and told the Enquirer, "Filing for divorce was nothing that I wanted to do, but I think it's the best thing for us."

6.14.01 - Rose McGowan will be joining the cast of Charmed this fall.

6.14.01 - Shannen Doherty won't have to serve jail time for her drunken driving arrest last December. She was sentenced Tuesday to three years probation - which includes talking to teens about the pitfalls of alcohol - and ordered to pay a $1,500 fine.

6.14.01 - Ted Casablanca imparts some of the latest news on Shannen Doherty, including the fact that she may have a recurring role on Buffy the Vampire Slayer next year, that she has an upcoming TV movie called "Another Day" in which she plays a single mother learning to make it on her own and that she may end up on the London stage.

6.4.01 - Wanda at E!Online reports that Tiffani Thiessen was approached with an offer of a role on Charmed but turned it down because they weren't offering enough money. Wanda also says that the word around town is that Holly and Alyssa are getting raises. Holly's still negotiating her piece of the pie, but the WB reportedly has offered her $60,000 an episode--twice as much as Katie Holmes, Keri Russell and David Boreanaz get. Alyssa will be making somewhere around $80,000 an ep next season. Why the hefty raise? The show obviously can't afford to lose another girl, and the frog net can't afford to lose another big name, now that Sarah Michelle Gellar has jumped into the abyss of UPN.

6.1.01 - Jennifer Love Hewitt was approached with an offer of a role on Charmed but has turned it down. Other actresses rumored to be considered for the role include Tiffani Thiessen, Soleil Moon Frye and Irene Molloy.

5.23.01 - TNT has acquired the rerun rights for up to eight seasons of "Charmed" for $600,000 an episode, according to Variety. In addition, TNT will pay $150,000 per episode for rights to a second-run window. Each season of "Charmed," which recently ended its third year on the air, has 23 episodes. TNT also bought the rights to air an immediate second run of the show within a week of its original airing on The WB, beginning in September. The cable network plans to screen "Charmed" reruns weekdays, beginning in fall 2002. Meanwhile Paramount, the show's producer, will put the show into weekend syndication simultaneously.

5.18.01 - TV Guide Online: Charmed Casts More Than a Spell - Now that churlish Charmed enchantress Shannen Doherty has hung up her pointy black hat, every wannabe Wiccan in Hollywood is reciting incantations in hopes that she will be picked to round out the coven...

5.16.01 - The WB and TNT are currently in talks to share Charmed, Gilmore Girls, Felicity, and the WB's latest, Smallville. If the deal goes through, TNT would air each show within seven days of its original broadcast on the WB. In addition, TNT would air the shows at 10pm, so as not to compete with the any of the WB's primetime line-up.

5.16.01 - From TV Guide Online: After the WB's fall schedule presentation to advertisers Tuesday in New York, co-president Susanne Daniels said "while Shannen will no doubt be missed, we are confident that [producer] Aaron Spelling will work his casting magic... and take the series to another level." Daniels went on to announce that the network has renewed the witch drama for three more seasons. A source close to the show tells TV Guide Online that Spelling is seeking "a big name" to replace the former Beverly Hills 90210 troublemaker. Meanwhile, the New York Daily News reports that Doherty left Charmed as the result of a simmering feud with co-stars Alyssa Milano and Holly Marie Combs.

5.15.01 - The WB's official Fall Schedule was announced today, and Charmed is definitely keeping its Thursday 9pm ET time slot, and Shannen Doherty is definitely not returning for the fourth season.

5.14.01 - According to the WB's Fall Schedule advance copy, Charmed, without Shannen Doherty, has been renewed for two more seasons and will be returning next season in the Thursday, 9pm ET time slot. The official announcement will be made sometime tomorrow.

5.12.01 - It's official! According to The Hollywood Reporter, Shannen Doherty is leaving Charmed. "We have had a long and prosperous relationship with Shannen and we didn't want to hold her back from what she wanted to do," the show's producer, Spelling TV, said. "We wish her all the best and much continued success."

5.10.01 - This week's Soap Opera Weekly interviews Executive Producer Brad Kern in an effort to confirm the rumors behind Alyssa's said departure from the series in her on-the-set battles with co-star Shannen Doherty. "Nothing I've been told from the people that I work for indicates whatsoever that anybody's leaving the show," Kern says of the rumor that Milano wants off and that her character will be killed. "Alyssa and Shannen are professionals. Are they best friends? No. Do they have to be? No. Do they work well together? Yeah. They're sisters in character only. They come in and do their job well. That's all that matters to us."

Kern goes on to say that he does have a quibble with the WB Network in the fact that because Charmed is one of their number 1 shows, they virtually spend hardly any money for promoting it. Instead, they spend all of their available funds promoting their struggling shows in an effort to build them up. (Ex. This season, the now defunct Grosse Pointe was one of the highest promoted WB series and is no longer on The WB's current schedule.) However, Kern feels if The WB claims there are no funds left to promote their more successful shows, how does that explain it's mega-promotion of 7th Heaven, Buffy The Vampire Slayer, Dawson's Creek? He claims he can never get a straight answer from The Wb when they are asked.

At the time of the interview all the way through SOW's press time, Charmed had not been renewed for a 4th season by the WB.

5.1.01 - Yesterday, Shannen Doherty pleaded no contest to drunk-driving charges stemming from a December arrest in which her truck was pulled over for allegedly weaving across a Southern California highway. Doherty stood silent in a Ventura, California, courtroom after changing her plea from innocent a month ago, to no contest Monday. She's due back in Ventura County Superior Court June 12th for sentencing, where she could face up to six months in jail for the two misdemeanor DUI charges. Prosecutors also chalked up a "special enhancement" against Doherty because she refused to take a breathalyzer test or blood test after she was stopped along the Ventura Freeway. Ian Morse, deputy District Attorney for Ventura County, says it's unlikely Doherty will get the full six-month sentence. A more common punishment would be either three years' probation and 48 hours in jail, or five days in work-release (aka roadside trash pickup detail). "She faces more than that because of the special allegation, but that's up to the judge," Morse added.

4.30.01 - Wanda at E!Online verifies that Alyssa Milano and Brian Krause are dating. Brian and his wife split in December, and he has been dating Alyssa for the past couple of months. They're apparently adorable together, very cutesy-wutesy, but the whole thing has deepened the divide between Alyssa and her onscreen siblings, who've been turning yet another shade of green.

4.27.01 - Zap2It.com: Buffy's Gone, but The WB is Still Charmed - Generally lost somewhere in the shuffle of last week's announcement about "Buffy the Vampire Slayer" moving from The WB to UPN next season is the fact that, while widely acknowledged as the network's signature show, "Buffy" is not its number-one show -- or even its number two....

4.18.01 - Zap2It.com: Producer Not So Charmed with the WB - It's been over four months since producer Brad Kern first voiced displeasure about his show not getting any respect from the WB....

4.18.01 - Gossip has it that Alyssa Milano and Brian Krause are dating, despite Brian's wife and young child. It has been reported in the National Enquirer, as well as some equally reputable foreign magazines, but more interestingly, it has been confirmed by Alyssa's manager/mom on the discussion board of Alyssa's official site at SafeSearching.com. Stay tuned for more news as it becomes available.

3.27.01 - Shannen Doherty pled innocent on Friday to a drunk-driving charge incurred after cops pulled her over on a Southern Calif. highway in Dec. Authorities alleged that the actress was weaving sporadically between lanes, then refused to take a Breathalyzer test. A judge has scheduled an April 30 trial date.

2.28.01 - E! Online's Wanda reports that things are getting really ugly on the set of "Charmed." Doherty acts like a primadonna all the time, demanding the best clothes and to be in the middle of all the publicity shots, and Milano is sick of it and threatening to leave. Meanwhile, Combs has managed to pretty much stay out of it.

2.6.01 - Wanda at E!Online reports that there is definitely something a-brewin' regarding the rumors about Alyssa Milano leaving the show. A source close to the set has told her that there is some not-so-charming tension between Alyssa and her onscreen sibs. Apparently it's stemming from jealousy over better storylines and Shannen's more expensive wardrobe, which is full of Chloe and Versace and has created a few budget problems.

2.6.01 - Wanda at E!Online reports that Alyssa Milano is not pregnant. The added poundage (and for the record, Wanda thinks she looks more healthy this way) can be attributed to her quitting smoking a few months ago. (Note from TK: I didn't even notice!)

11.2.00 - TheWB.com: The New Demon in Town: Julian McMahon

10.31.00 - TV Guide Online: Who is sexier? Shannen Doherty or Alyssa Milano?

10.26.00 - Cosmo's Celebrity Interview of Alyssa Milano

10.9.00 - E!Online: Aaron Spelling's Bitches & Babes
Shannen Doherty, bitch #3

8.21.00 - "LADY & THE TRAMP" SEQUEL TO VHS & DVD NEXT SPRING - Scamp, the son of Lady & The Tramp, takes centerstage in the direct-to-video release LADY & THE TRAMP II: SCAMP'S ADVENTURE, due out next spring. Scott Wolf ("Party of Five") voices the title role, in an adventure full of songs in which Scamp takes up with the stray Junkyard Dogs, and falls for a stray named Angel (Alyssa Milano), who the Junkyard Dogs' leader (Chazz Palminteri) also has his eyes on. SCAMP also features the voices of Jodi Benson, Jeff Bennett, Cathy Moriarty, Bronson Pinchot, Mickey Rooney, and Bill Fagerbakke. (Hmm, interesting since Scott Wolf and Alyssa Milano used to be engaged.)

8.1.00 - "Charmed" has been nominated for a Teen Choice Award as Choice Drama. The awards ceremony will air on Fox on Tuesday, August 22nd.

6.30.00 - Safesearching.com reports that Dorian Gregory, who stars as Detective Darryl Morris on Charmed, is coming back to Season 3. Watch him track more demons, warlocks, and murderers who hunt witches. The third season of Charmed is slated to premiere sometime this fall.

6.29.00 - Wanda at E!Online says that rumor has it some "Beverly Hills 90210" cast members will be appearing on "Charmed" next season.

5.17.00 - TV Guide Online: Doherty's Mysterious Face-Lift - Why was Shannen Doherty's face blurred in the 90210 retrospective last week?

5.16.00 - Not only has "Charmed" been renewed for another season, but it will be keeping its 9pm ET Thursday time slot.

4.15.00 - TV Guide Online is taking a poll. Who's sexier, Katie Holmes or Holly Marie Combs?

3.12.00 - Check out Beth Harris's review of Shannen Doherty's performance in the ABC movie "Satan's School for Girls" in the Chicago Sun-Times.

12.3.99 - Alyssa Milano filed for divorce from husband Cinjun Tate Wednesday after just 11 months of marriage. The two, who were married New Year's Day, separated on November 20th according to the court papers.